Create Beautiful Spaces
"What art offers is space – a certain breathing room for the spirit." John Updike
An art installation in a medical facility can fundamentally change a patient's experience. It can reduce a patient's level of anxiety, create a better work environment for doctors, nurses and staff, and facilitate connections between practitioners and patients. Xray Artistry is at the forefront of this growing trend and has been shown to transform medical spaces from cold and clinical, to cheerful and comforting.
Studies have shown that art in healthcare settings can cultivate a healing environment, speed patient recovery and reduce stress among caregivers. Xray art has the power to calm and comfort patients and their families and connect doctors and patients through their shared humanity.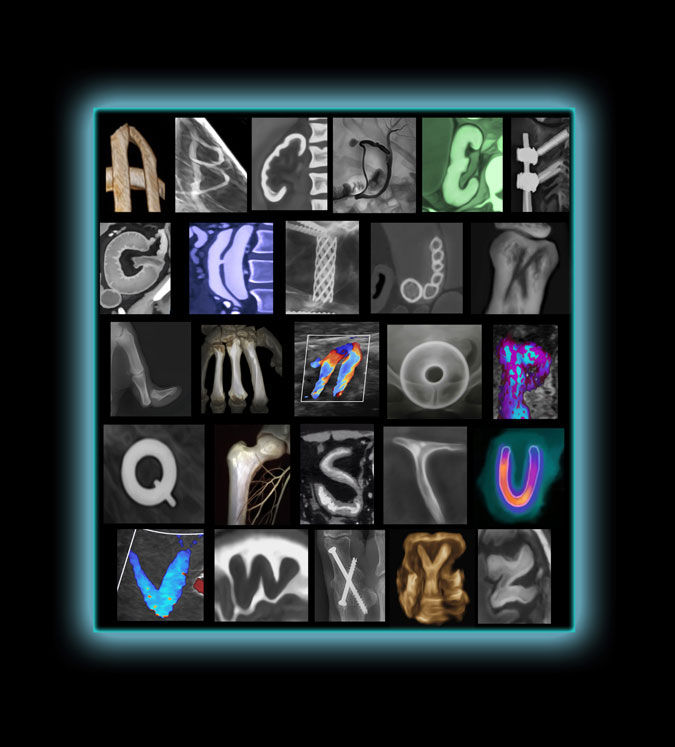 Each piece of artwork is customized to an individual medical facility and its specialty. Using a wide range of alphabet characters, we choose images that best reflect your organization's medical specialty. For example, for a pediatric facility, we use colorful letters that are easily identifiable by children, such as a finger for the letter I or an elbow for the letter L. This helps put children and their parents at ease and creates a welcome distraction for families.
Let's discuss the unique needs of your space. Contact us here to request a free consultation. View Gallery here.
"The arts are a critical component of healthcare. Expressive art is a tool to explore, develop and practice creativity as a means to wellness."  Wellarts Association, Portland OR
Receive announcements about new artwork, exhibits, speaking engagements, and other special announcements.
The Xray Artistry alphabet and Xray Artistry products are all licensed artistic reproductions of actual human radiographs in accordance with healthcare privacy rules and regulations. All images and products are protected by Copyright © 2018 Susan Summerton, MD, Xray Artistry.